Staying connected without dependence on infrastructure
The ION2G software brings HF Automatic Link Establishment (ALE) MIL-STD-188-141B to your computer with a familiar and easy to use interface. ION2G helps you stay connected to the people you need to communicate with across thousands of miles without dependence on infrastructure. Using ALE and smart algorithms, ION2G automatically finds HF radio communications channels through the constantly changing ionosphere -- while avoiding busy HF frequencies and interference. ION2G takes the guesswork out of finding a frequency to use and will find usable radio channels that even experienced HF operators may miss. Selective calling with SELCALL CCIR-493-4 is also supported enabling you to communicate with stations that are not ALE capable. ION2G is interoperable with ALE 2G and SELCALL radios from all major manufactures, including Codan, Barrett, Icom, Yaesu, and Kenwood.
ION2G is cross-platform and runs on Windows 10, Windows 11 (64-bit), and MacOS. ION2G can be used with radios from manufactures like Icom, Yaesu, Kenwood, and others. New radio support is under active development.
This software is currently still in beta and under active development with many experimental features being tested.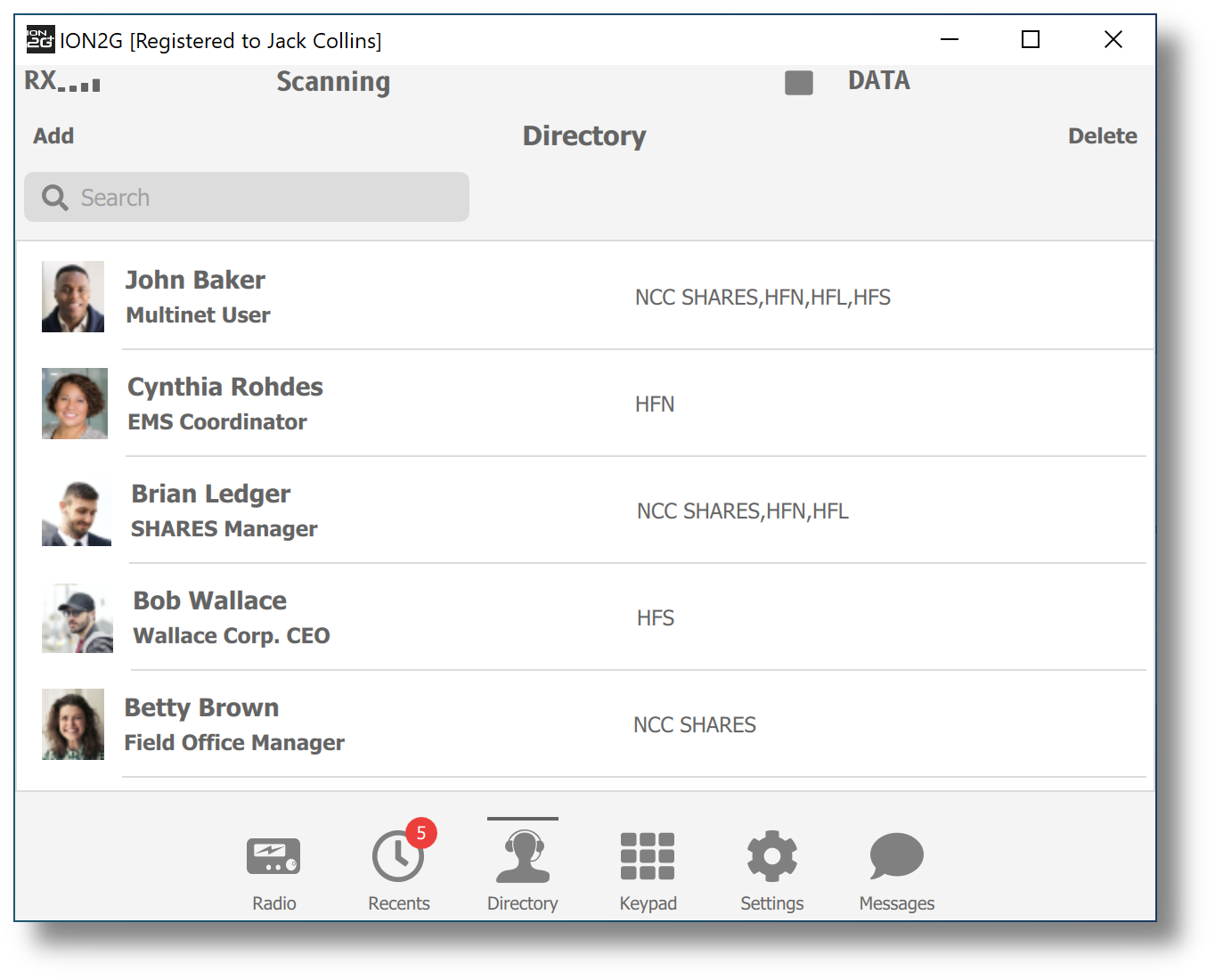 Friendly
An easy to use interface designed with a focus on people and communicating with them. With features including a contacts directory, advanced propagation tracking, and robust text messaging, ION2G gets out of your way — and lets you stay focused on what matters.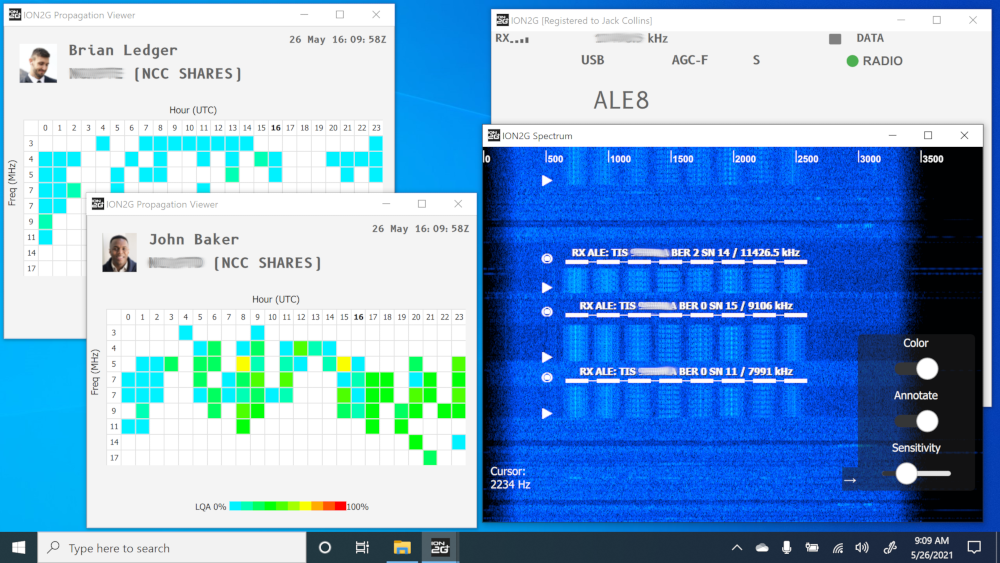 Intelligent
Uses intelligent algorithms to track patterns in channel occupancy, avoid interference, and automatically select the best channel for your communications.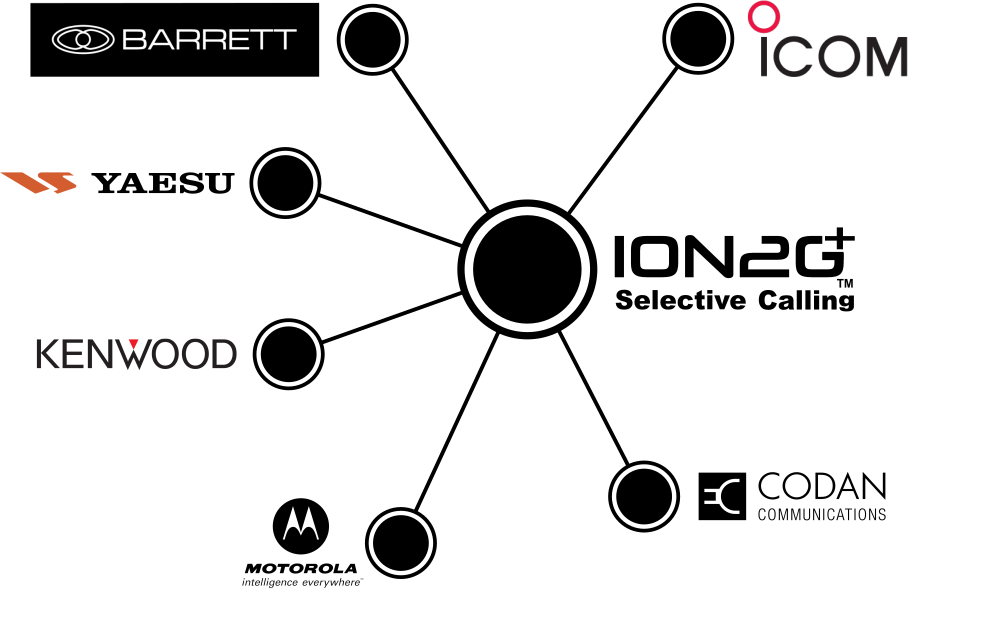 Interoperable
Built on open-standard field proven communications protocols. A single unified software solution enabling communication with any stations running ALE 2G (MIL-STD-188-141B) or SELCALL (CCIR-493-4).
---
Radio Support
ION2G Currently supports the following radios:
Icom F8101
Icom IC7300
Icom IC7610
Icom IC706MKII and MKIIG
Icom IC7100
Icom IC7200
Icom IC746PRO
Icom Generic (various other models) (alpha)
Kenwood TK-90 (alpha)
Kenwood TS-590/TS-590S (alpha)
Kenwood TS-570/TS-570S (alpha)
Kenwood Generic (various other models)
Flex Radio (6xxx series) (provisional)
Codan NGT CICS (alpha)
Yaesu FT991A (alpha)
Yaesu FTdx10 (alpha)
Yaesu FTdx-101MP (alpha)
Yaesu FT-100D (alpha)
Yaesu FT-891
Yaesu FT-897
Yaesu FT-710 AESS
Yaesu Generic (various models)
Xiegu G90 (alpha; works with IC-7100 Emulation, 19200/N/8/2 CIV address 0x88)
FLRig Radio Interface

Support for a large number of radios: See the list here.
Support for new radios is under development, so if your radio is not listed here, please contact us or join the ION2G groups.io community and ask.
---
Collaborate
Join our groups.io community to ask questions, get help with setup and configuration, and share ideas.
---
Register
ION2G BETA is free for use by SHARES stations, USCG Auxiliary, Army and Air Force MARS, and radio amateurs on the ham bands. The current BETA version can be downloaded and tested for free and will run without restrictions or timeouts, unregistered. However, by purchasing a BETA version license for $20 USD and registering your copy of ION2G, you get a personalized permanent license and CCIR-493-4 SELCALL address assignment, and your purchase helps fund ongoing development of this software.
If you are interested in using ION2G for commercial or organizational use other than MARS, SHARES, or USCG Aux, please contact us for more information.
Click here to purchase a license for your station. After you have completed the purchase you will be presented with a link to the registration page to complete your license request. It is important that you provide a valid email address. Some browsers have problems displaying the registration link after purchase. If you are not presented with the registration link after you complete your purchase, we will contact you at the email address associated with your paypal account.
---
Donate
You can support ongoing development of ION2G through Paypal with a one time donation or a monthly contribution.
Click here for recurring contribution options.
Or click the button below to make a one time donation: